Sly & Robbie produced Serge Gainsbourg's "Aux Armes, etc…" back in 1979 with Geoffrey Chung. The album went gold and quickly became Gainsbourg's best-selling album.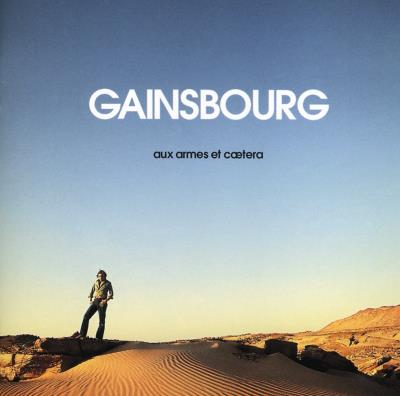 Fast forward to 2011, I had just recorded riddims for a Sly & Robbie Funk album. We'd finished early and I had one day left, so I asked them to re-record the entire "Aux Armes" album (plus a couple of other Gainsbourg tracks). The exact same personnel (minus Ansel Collins who was touring at the time) that was hired for the session in 1979 is featured on these.
They licked 13 riddims in 6 hours. F*cking S – I – X hours… A-MA-ZING. I've witnessed them do it times and times again, but it never gets old!
I had forgotten about these riddims when Universal, Gainsbourg's record company, contacted me last Spring to interview S&R for a documentary they were shooting to promote the 40th anniversary reissue of Serge Gainsbourg's "Aux Armes".
Lightbulb moment! How about releasing something ourselves, we have the riddims and S&R are never going to make a cent from the original album anyways. They got paid a pittance each for the entire album, and never received any production royalties as the producer credit was taken away from them and Geoffrey, going instead to Philippe Lerichomme. Lerichomme was Serge's "damager" (Jamaican slang for "manager"), and never ever did any producing during the 1979 session at Dynamics, or anything for that matter, except being in the way. Quite frankly, who in their right mind would imagine that a French guy who barely speaks English, let alone Jamaican patois, would ever tell Geoffrey Chung and Sly & Robbie what to do during a recording session in Kingston Jamaica? What a joke, and how telling of majors' modus operandi!
Robbie and Sly are quite philosophical about this, adding that they had a great relationship with Serge and credit him for making them "international". I really admire how they ALWAYS keep a positive attitude and are not submerged by bitterness and jealousy like so many old time Jamaican artists.
So last Summer, my Kingstonian brother from another mother Gaylard Bravo and I dubbed the crap out of those riddims when he stayed at my place.
We installed a pair of Adam speakers (I swear by those) and threw away the rule book on mixing: screw sound proofing the room, we worked with the windows opened because it was so hot, could not play loud because of a bitchy, borderline racist, female neighbor, no extra gear, no protools plugins because the computer had a meltdown, forcing us to use a super old version of protools quick quick on an antediluvian mac that had been idle for years. Pure bandulu attitude.
And guess what, I'm very happy with the sound and atmosphere we created. Even the mastering engineer didn't have to work too hard to make it shine… And initial reactions are unanimously positive. Sure it's not Errol Brown at Tuff Gong or Bruce Swedien on Michael Jackson's "Thriller" but it sounds very, very honorable…
We'd done Keith Foundation's "Hey Yo" album the same way (minus the computer disaster) and quite frankly, I'm not planning on using studios to mix. I'd rather use the money to fly Bravo to France and dick around with sounds with him until the wee hours of the morning with no time constraint, watch old Western movies with him on YouTube between mixes, burn a little (make that a lot) woo woo, etc… while he enjoys Europe and visits his family members who live this side of the Pond.
Ain't life great?
PS = I've done it time and time again, but I will continue to chant these musicians names until I can no longer utter a word. They are my heroes, my mentors, my benefactors. They are a joy to watch in the studio or onstage. I am blessed to have met them and I fucking love them bad bad bad. They are the greatest band ever to grace the Universe with their totally marvelous music and attitude. Taxi Gang, Revolutionaries, who cares they are:
Sly Dunbar (Drums)
Robbie Shakespeare (Bass)
Mikey "Mao" Chung, Dougie Bryan (Guitar)
Robbie Lyn (Keyboards)
Sticky Thompson (Percussion)
Recorded at Anchor Studio, Kingston, Jamaica = Delroy Pottinger
Mixed at TABOU1 = Gaylard Bravo, Guillaume Bougard